August 16, 2003
Kingsbury
When Diamond Geezer started writing a series of articles detailing some interesting things about his neigbourhood - I was inspired to do the same about where I live - but it sure was hard work!
I live in Kingsbury - which a suburb in North West London - approximately 10 miles from the Charing Cross (which is considered by London Black Cabs to be the exact centre of London.)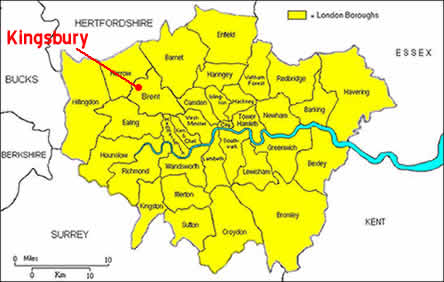 Map of London Boroughs - showing Kingsbury in relation to the centre of London

Kingsbury is in Royal Mail postal district NW9 - and falls within the governance of the London Borough of Brent. According to the data gathered at the time of the 2001 UK National Census - the Office of National Statistics reports some interesting facts:
That the average age of people in my neighbourhood is 35.9 (UK average is 38.6)
That 62.5% of the population of my neighbourhood are "non-white" - i.e. Asian or Afro-Carribean (UK average is 7.6%)
That 48.9% of the local population are Indian-subcontinental in origin (UK average is 4.6%)
The UK Land Registry records that the average price of an average home in my neigbourhood is around 230,000 UK Pounds - which is around 328,00 Euros, 368,000 US Dollars, or around 17M Indian Rupees. (I like the idea of selling my house for Rupees.)
Interestingly - the Acorn Socio-Economic profile for my neighbourhood is labelled "Home Owning Multi-Ethnic Areas, Young Families" - and this type reportedly accounts for only 1.1% of the UK population! Please do read the Acorn profile for my neigbourhood - some of it will make you laugh! For example:
"Attitudes: People in this ACORN Type enjoy radio advertising. They are more likely than average to be vegetarian. When they see a new brand they are very likely to buy it and they love buying new gadgets and appliances. They prefer to take their holidays off the beaten track."
OK - so that's what my neighbourhood is like today. But what was it like yesterday?
Bronze Age, Romans, Anglo-Saxon and Normans:
Well - it turns out that Kingsbury has quite some history to it - some Bronze Age cremation burials have been found nearby - which would date human settlement in this area to between 2500 and 600 BC. Roman artefacts have also been found. Most of what is definitely known about the earliest history Kingsbury is gathered from the Domesdsay Book - which was commissioned in December 1085 by William the Conqueror, who invaded England from France in 1066. Prior to that it was an Anglo Saxon settlement when just before the Norman Conquest, Edward the Confessor gave "all the land at Chealchylle (Chalkhill) [and] every third load of fruits growing in the … forest which lieth towards Kynggesbrig" to Westminster Abbey. At this time much of Kingsbury belonged to Ulward Wit, a Saxon thane. (A "thane" was a man who held land from an English king or other superior by military service.)
Medieval times:
During the Middle Ages (which is the period of a thousand years in European history in between the decline of the Roman empire - around 500 AD and the start of the Renaissance - around 1500 AD) my local neighbourhood was probably a very heavy forest lying between two ancient north-south routes called Watling Street (modern A5 Edgware Road) and Honeypot Lane (which my beloved Route 79 bus travels upon). over time - forests were cleared to make way for farms - and the rural life continued well into 1920s. (only 140 houses were recorded in the year 1900!)
Post-Renaissance:
There were six inns in Kingsbury in 1751. These were called The 'Plough', 'Black Horse', two called 'Chequers', King's Arms, and Red Lion.
At the turn of the 19th century hay and animal farming predominated in Kingsbury. By 1838, 97% of land was under grass. Large numbers of agricultural labourers came from Ireland to work there, and many settled in Kingsbury. There was a Roman Catholic school here from 1865. In 1893 Field Marshal Lord Roberts of Kandahar, who had recently returned from India, came to live nearby. He was appointed Commander-in-Chief of Forces in Ireland two years later.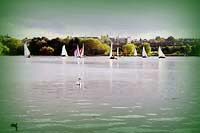 In the second half of the 19th century (between 1860 and 1865) the Welsh Harp pub and the grounds surrounding the Welsh Harp Reservoir became a popular place of recreation and entertainment. Horse races attracted "thousands of the scum of London" until racing was banned from London's hinterland in 1878. A Metropolitan Railway station served day-trippers from 1870 to 1903. As late as 1930 Kingsbury was famous for pleasant days out in unspoilt countryside! (The Kingsbury races were also very popular and the Prince of Wales and other famous visitors were among the very many attracted by the pigeon shooting and the opulence of the local inn. The escape of a bear from the Welsh Harp menagerie is recorded as occurring in 1871 to the horror of local residents!)
20th Century:
The location of my neighbourhood close to Hendon aerodrome led to the development of an aircraft industry during the First World War. Many of the workers were women. There were also three aerodromes in Kingsbury itself - one of which was called the De Havilland aerodrome. 20 houses had already been constructed at Stag Lane in 1909-10 and at the end of the war Roe Green Village was built for aircraft workers.
About 100 people had lived in medieval Kingsbury. In 1911 there were 821. Another 1,000 people settled during the First World War. But from 1921 to 1931 Kingsbury experienced the largest population increase of any district in north London, from 1,856 to 16,636 (a rise of 796%)
In the 1960s and 1970s a number of Asian people who had fled East Africa came to Kingsbury. Some of them contributed to the area almost immediately by buying up local shops that would otherwise have closed.
I moved into Kingsbury in 1993 - buying my first home. Previously I lived in a rented apartment in Clapham - and prior to that in a rented studio apartment in Woolwich. Why Kingsbury? Well as this was my first ever house purchase - I found that there were only a few areas in London which were affordable - and Kingsbury was the nicest of them. I bought my first house for 72,000 UK Pounds. (Can you believe that?!)
So - how about some claims to fame for my neighbourhood then:
An apparently famous man called Oliver Goldsmith lived nearby from 1771 to 1774. Nobody is absolutely certain what Oliver Goldsmith was famous for - but it is generally accepted that he was a writer and poet. He was certainly in the same crowd as Samuel Johnson, James Boswell and Sir Joshua Reynolds - all of whom visited Goldsmith whilst he lived round here.
London's first greyhound race was held here in 1876! (At the Welsh Harp Reservoir)
The De Havilland aircraft factory had it's first home in Kingsbury. It went on to build a large number of warplanes and civilian aircraft, including the famous Gypsy Moth and the world's first passenger jet - the Comet. The Gypsy Moth that Amy Johnson and her husband Jim Mollison used on their solo flights to Australia was built and purchased from here!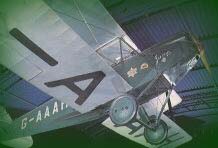 Amy Johnson's Gipsy Moth
The

BACS

company is based here. In fact - it exists on the grounds of the old De Havilland aircraft factory due to it being a very suitable location in London to build one of the largest computer halls in Europe. This is because

BACS

is one of the world's leading and most successful organisations providing electronic funds transfer - it is owned by the

UK

banks and handles over 3.7 billion financial transactions a year - around 60 million payments on a peak day - which include Direct Debits, Direct Credits, Standing Orders and other inter-bank payments. Almost every salaried worker in the

UK

gets paid through the

BACS

system.
Due to rapid expansion of the local population during the late 1920s and early 1930s - there was a desperate need for a Christian Church building. The famous St Andrews church in Wells Street in the West End of London (a few hundred yards from Oxford Circus) was among the best known churches in London, mainly because of the musical and choral performance of the services. Members of the Royal Family regularly worshipped there. This church was built in 1847 and features work by several by famous Victorian architects and artists. As the population of central London shifted to the suburbs - the West End became more commercialised and the church gradually became redundant. The then Bishop of London made a bold decision to move redundant London churches, and the Wells Street church came within this plan. Kingsbury was chosen as its new home, and this became the first and, in fact, the only parish for such an experiment. In 1931, the Wells Street building was dismantled, every stone being numbered to facilitate re-erection (apart from certain planning modifications) at Kingsbury!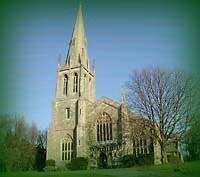 St Andrews Church - moved stone by stone from near Oxford Street to Kingsbury
The first ever Pizza Hut UK delivery store opened in Kingsbury in 1988.
Remember John Logie Baird? He is often remembered as being an inventor of a mechanical television system. The television pioneer created the first televised pictures of objects in motion (1924), the first televised human face (1925) and a year later he televised the first moving object image at the Royal Institution in London. His 1928 trans-atlantic transmission of the image of a human face was a broadcasting milestone. Colour television (1928), stereoscopic television and television by infra-red light were all demonstrated by Baird before 1930. He successfully lobbied for broadcast time with the British Broadcasting Company, the

BBC

started broadcasting television on the Baird 30-line system in 1929. The first simultaneous sound and vision telecast was broadcast in 1930. However, in 1936 the

BBC

adopted television service using the rival electronic technology of Baird's fierce competitors Marconi-EMI - which led to the decline of Baird. Although John Logie Baird has often been disregarded for his achievements - his work had profound influence and has had more cultural impact than any other 20th century invention. Also - in the

U.K.

today - the telecine equipment for showing movies on television is supplied by Rank Cintel which has built on the expertise of part of the Baird Television Company which it took over in 1940. So next time you watch a movie on

TV

- remember that it was Baird's pioneering work that enables you to do that! Oops - I got carried away with the history there - what I really wanted to say was that as for a few years between 1928 and 1931 John Logie Baird participated in a useful collaboration with German companies interested in television broadcast technology - and the first experimental transmissions from Germany were sent from Berlin to a specially built receiving station in the stable block of Kingsbury Manor - which is situated in Roe Green park!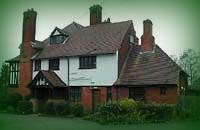 Kingsbury Manor - where Baird received the first TV signals from Germany

Neville Shute - a famous writer from Norway worked at the De Havilland aircraft factory and lived in Stag Lane Kingsbury. He wrote 24 novels and an autobiography between 1924 and 1960 - several of which were reproduced as films.
Posted by jag at August 16, 2003 02:20 PM