February 05, 2002
Heathrow Hotel
Hilton Heathrow for a conference. This is a disgustingly expensive hotel. I can't believe that it doesn't even have a courtesy bus from ANY of the Heathrow terminals shuttling to it. This is just sheer madness. Not that I was inconvenienced by it you see - I came in my car - but I can only feel for all those American tourists who must be really pissed off that you have to shuttle it to T4 and then, from there, walk all the way to the hotel through what the hotel calls "a unique covered walkway" from Terminal 4. What a joke. This is utter British crapness gone mad. I just cannot believe that it would cost so much to operate a shuttle bus. Especially when the room rates are over £200 per night!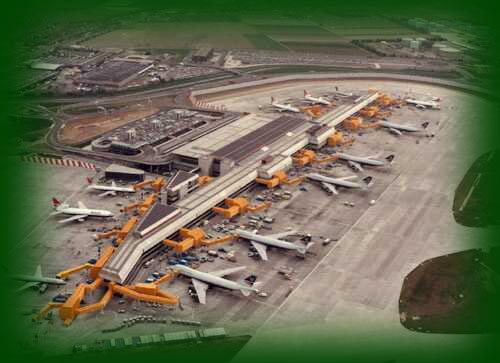 Heathrow Terminal 4 as seen by aircraft
I spoke my mind to the good-looking blonde who was standing near reception doing a customer service survey. She just failed to understand my grievance.
"Relax said the nightman
We are programed to recieve
You can check out any time you like
But you can never leave."
from "Hotel California" by The Eagles
February 02, 2002
O2O2O2
Didn't make to Tim's party. Real shame. I was sort of looking forward to finding out what the apartments inside the Barbican are like on the inside.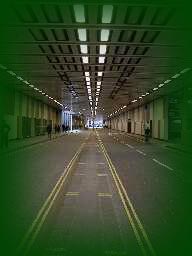 The tunnel under the Barbican
More importantly - the Martin Parr: Photographic Works 71-2000 exhibition is beckoning. His colour-saturated pictures have a strange effect. Couldn't take my eyes off one of his works displayed on a poster on the wall in a tunnel at Green Park. Must see. Must develop an opinion. £7 for a ticket though …
"The best things in life are free
But you can tell me 'bout the birds and bees. Now gimme money
That's what I want"
Images of a punky girl singing this from the late 70's. Originally by Gordy/Bradford for The Beatles.
February 01, 2002
Stormy weather
Padlock still open.
"The chills that you spill on my back
Gives me filled with satisfaction
When we´re done
Satisfaction of what´s to come"
from "Groove is in the Heart" by Dee Lite.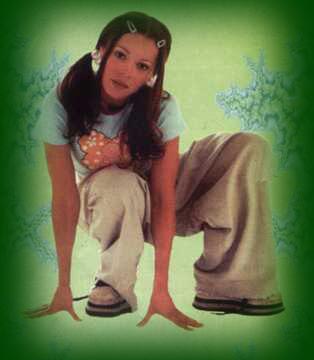 Deee Lite
Rayners Lane trains notable by the absence of their arrivals at Ham in a pattern that is typical of journey's home on Fridays. End of the week. Storm in the air. Wondering whether the 79 bus from Alperton is going to be a good idea. It's a double-decker you see. Might get blown over by a gust of 80mph wind. What would I do then? So when it arrived I sought solace on the bottom deck - right next to the emergency exit window. This made me feel a lot better.
Low flying aircraft. I've noticed they do this whenever the storms are in session. The bright lights pierce the low-lying clouds as these gigantic birds drop into gusts that would blow an ordinary man of his feet.
I look up and wonder if the diet-coke is flying everywhere up there? Is the coffee splashing onto the video-screen smartly placed on the back of the seat in front? This brings back a recall of that chilling half-hour before I hit the ground at Heathrow from Belfast in 1992.
It makes me smile now. Because I'm on the ground - and they're up there. I kissed the ground like the pope does that day - I was that relieved. I was oblivious to the torrential rain that was soaking me to the skin. It actually felt good. And the pilot was my hero.