February 05, 2002
Heathrow Hotel
Hilton Heathrow for a conference. This is a disgustingly expensive hotel. I can't believe that it doesn't even have a courtesy bus from ANY of the Heathrow terminals shuttling to it. This is just sheer madness. Not that I was inconvenienced by it you see - I came in my car - but I can only feel for all those American tourists who must be really pissed off that you have to shuttle it to T4 and then, from there, walk all the way to the hotel through what the hotel calls "a unique covered walkway" from Terminal 4. What a joke. This is utter British crapness gone mad. I just cannot believe that it would cost so much to operate a shuttle bus. Especially when the room rates are over £200 per night!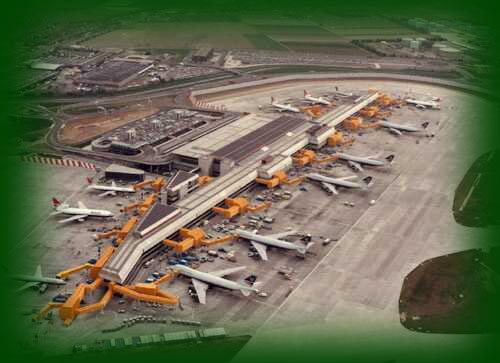 Heathrow Terminal 4 as seen by aircraft
I spoke my mind to the good-looking blonde who was standing near reception doing a customer service survey. She just failed to understand my grievance.
"Relax said the nightman
We are programed to recieve
You can check out any time you like
But you can never leave."
from "Hotel California" by The Eagles
Posted by jag at February 05, 2002 12:20 PM