December 19, 2003
Dim Sum
For those who don't know already - I work in Hammersmith - which is a bustling neighbourhood of West London just outside of what is conventionally known as "Central London". And because of this - Hammersmith is devoid of tourists. Also because of this - as well as it's proximity to the major routes into Central London from Heathrow Airport - over the last 20 years or so it's become a haven for a variety of global businesses requiring a location for a corporate UK or European HQ. Mobile phone giants, Loreal, Disney, Coca-Cola, Universal Pictures, AOL Time Warner to name but a few are all located here. Less than 1 kilometre away to the East is the outer edge of Kensington and Chelsea - with all the high-class, sophisticated living and lifestyle that comes with it. To the West is the affluent suburb of Chiswick. To the South and across the river past the famous St.Paul's school (UK's top performing school) is the affluent suburb of Barnes leading to Kew and Richmond. To the North is the nation of Shepherds Bush surrounding a sprawling island that defines the worldwide broadcasting headquarters of the BBC. Hammersmith itself is home to council estates, fringe theatres, multitudes of multi-ethnic restaurants, office blocks, shopping malls, car parks and thousands of ordinary Londoners.
Hammersmith is noisy, gritty, and unpretentiously REAL London.
One particularly good feature of Hammersmith is the fact that the Piccadilly Line Underground runs through it. This provides ample opportunity to hit the West End of Central London within a maximum of 15 minutes: Knightsbridge, Hyde Park Corner, Green Park, Leicester Square, Piccadilly Circus and so on. And it is this feature that makes it so possible to spontaneously get a few friends from the office together for a lunch-time Dim Sum excursion into London's ancient Chinatown.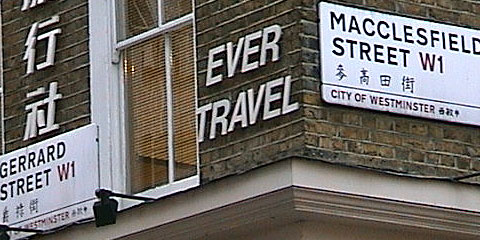 London's Chinatown. Street-names translated into Cantonese.

As I have grown a little older since my freshly-post-student days - Central London as a hangout for socialising has become a real chore. I just don't go there any more if I can help it. But, amongst a small number of other places in the West End, Chinatown is exempted - it's one of my absolute favourite districts in Central London - and I jumped at the the idea of joining a crew of colleagues for Dim Sum at our favourite New World restaurant. 15 minutes on the tube from Hammersmith to Leicester Square and we were there. It was noon - and we were hungry. Some time later we were fulfilled and satisfied - and ready to go back to work. An extended lunch break to mark the passing of another quarter - as well as the Christmas holiday season: thoroughly enjoyed.
The New World restaurant - the best place in town for Dim Sum

If you haven't experienced Dim Sum before - but you would like to - then some advice:
Plan to go early: i.e. be there no later than 12:00 - most places will be very busy by 12:30 - The New World has lots of tables though.
Don't go if your group is less than 5 people - as any less and it's just not as fun - and you don't get to sample much without spending a lot.
For a group of around 8 and above - budget for around £7 per head. This is extremely good value for a very fullfilling brunch!
Best to have someone Chinese (Cantonese speaker) in your group if possible the first couple of times - as the waiters/waitresses can be quite assertive and you may end up agreeing to take dishes that you won't like!
If you pick up the teapot to pour yourself some tea - top up everybody else's first - before your own. Dim Sum is all about respectful socialising. (Click here and here for more info about Dim Sum dishes.)
If you are a sociable lot - you will find that time as flown by - and don't be surprised if you have spent three hours there.
If you are at the New World - then settle up in cash - the waiter will bring back any change - which you can then use to form a tip to leave on table.
You will be stuffed afterwards and probably won't be able to eat anything for the rest of the day - if you don't have to go to work - then why not spend the rest of afternoon in pub? There is a great Irish pub on the Wardour Street side of Chinatown called Waxy O'Connors - which in the early afternoon is warm, cosy, not too noisy and surprisingly uncrowded.
Some more snaps taken in Chinatown as we left the restaurant:
Food hanging in window. Telephone booth pagodas.

Posted by jag at December 19, 2003 08:48 PM