December 20, 2003
Piccadilly
Yesterday's lunchtime trip into Chinatown reminded me of one of my favourite short-walk routes in Central London. It's the walk from Green Park tube station to Chinatown. When you surface at street level coming out of Green Park station, take the Piccadilly North Side exit - and you will find yourself on the famous road called Piccadilly, practically right opposite the Ritz. Turn left and walk casually down towards Piccadilly Circus - past expensive car showrooms on the left - and famous name shops and tailors on the right - e.g. Fortnum & Masons etc. Soak yourself in the glamour of it all. Don't forget to absorb the splendour whilst browsing the shops inside the Burlington Arcade which will be on your left as you walk by - and also spend a few minutes inside the courtyard of the magnificent Royal Academy of Arts - wondering how on earth such a place could exist right here? As you get closer to Piccadilly Circus itself you cannot help but notice the queuing cars and Routemaster style buses at the traffic junction. Straight ahead of you is the statue of Eros - surrounded in Evening Standard advertising hoarding - and as you approach the junction - veering to your left as you cross the road along with hundreds of others - be prepared to be dazzled by bright lights and neon adverts high up on a curved building. Follow the crowds round that curve into Shaftesbury Avenue - sticking to the left hand side. As you walk further down the avenue for about 300 metres - keep looking left into the side streets - for you will see what's left of the seedier sides of Soho - strip clubs, peep-shows, theatres and dive bars. When you get to Wardour Street - cross Shaftesbury Avenue into the right-hand branch of Wardour Street - and enter Chinatown towards Leicester Square.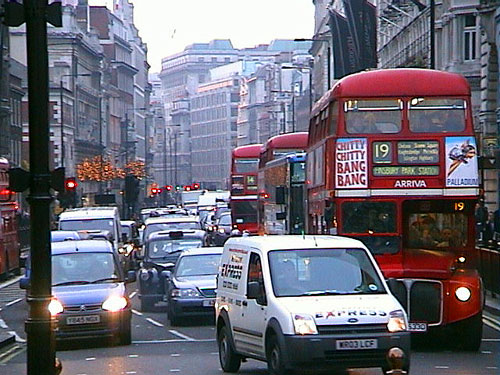 Piccadilly - black cabs, London buses and, of course, white-van man in front.

The above walk only takes 10 minutes or so - but is a great way to absorb some of the excitement of Central London. So - if anybody asks you to meet them at Leicester Square - go a bit earlier - go to Green Park instead - and walk it to Leicester Square from there.
Posted by jag at December 20, 2003 04:42 PM