« June 2004 | Main | August 2004 »
July 31, 2004
London Sky
Been away for few days. As some of you may remember, I've said before that the best views of London are had from the front of the upper deck of a London Bus. The next best view is from the seat of an aeroplane on the final approach of the descent into Heathrow Airport. Especially if it's a nice clear day. Yesterday was bit cloudy - and although I had a window seat - it was on the left side of plane - and planes normally come in to land from the East - turning over the City of London - and then tracking the river in a straight line Westwards - a few clicks South of most of the river itself when over the city . This is why I always ask for a window seat on the right-hand-side of the plane - but this time I wasn't so lucky.Thus - I had little opportunity to get much of a good view - and whatever view I had was obscured by cloud and haze.
View of London from the sky (Hover your mouse over the numbers for some pointers to some landmarks)
WARNING: COMMENTS ARE WORKING - BUT YOU MAY GET AN ERROR 500 PAGE (Ignore the error - the comment will still be added - I just haven't got round to fixing the problem yet)
Posted by jag at 09:11 AM | Comments (2)
July 30, 2004
Fiddling with phones
I think I'm turning into a mobile-phone spotter. I had some leftover pictures from last weekend's daytrip into Central London.
Man clicking away on a deck-chair in Green Park
And although mobile phones do not work on the London Underground system (yet) everywhere you go you will find people clicking away on their phones anyway.
Clicking away on the London Underground
WARNING: COMMENTS ARE WORKING - BUT YOU MAY GET AN ERROR 500 PAGE (Ignore the error - the comment will still be added - I just haven't got round to fixing the problem yet)
Posted by jag at 10:38 AM | Comments (2)
July 25, 2004
Comments "Error 500"
A slight warning to those of you leaving comments here: For some reason - when you leave a comment, you might get an error page reporting "Error 500" after hitting "submit". I'm not sure what's causing it - but it seems that the comment *is* being accepted OK - just refresh the page and you should be able to confirm that the comment has been accepted. I'm trying to work out why this error is occurring. Perhaps I need to update my Movable Type software. The problem is that I need to find the time to do this. Alas - time flies like an arrow ...
Posted by jag at 09:20 PM | Comments (23)
Sightseeing Sunday
It's often said that Londoners don't see enough of their own city. I for one would have to agree with this - I have spent so many years travelling through and working in Central London - that I haven't really seen London from the point of view of a tourist as often as I would have liked. But occasionally, the Route79 family do try to make an adventure of a Sunday morning - and hop on the tube down to Central London whilst (hopefully) most Londoners are still in bed. Today's plan was to get the Jubilee Line into town. Go play football for a while in Green Park. Pop over to Buckingham Palace to watch Changing the Guard - and then stroll back along Piccadilly and up Shaftesbury Avenue into Chinatown - get some lunch (
Dim Sum
perhaps?) and then on towards Leicester Square to get a tube back home.
Riding the Jubilee Line into town. (I've noticed that undersized kids just love sitting on those side-seat things.)
The band that plays all the pompous music that accompanies the
Changing the Guard ceremony
often break into tunes that sounds really familar. Today, amongst all the traditional Royal pompy stuff - they played the theme from
Thunderbirds
. (Please DO click this previous link - you will thoroughly enjoy it if you remember Thunderbirds from childhood!) I've had that music on my brain all day. Even right now - as I type - I just can't seem to get it out of my head.
Click the MORE below to continue ... (quite a few more pictures) Well - we had hoped that most of London would still be in bed - but it turns out that most of London was actually out to see the Changing the Guard ceremony at
Buckingham Palace
. The place was so crowded! We managed to get a space on a marble-white wall near the water-feature adjacent to the Victoria Memorial - which is the big statue right opposite the gates to Buckingham Palace.
Sitting on a wall at Victoria Memorial
Walking back along Piccadilly - towards Piccadilly Circus - we stopped to jokingly contemplate having a
"cup of tea and a slice of cake" at the Ritz
. But just like every time we have done this in the past - we jokingly contemplate about doing it some other time! There is a uniformed guy standing guard at the entrance to the
Ritz Club
- and he has a spare peaked cap which he places on the head of any child that goes up to him to pose for a photo! And that's the place I took the following picture from:
Alternative view of the famous "Ritz" sign
Just before Piccadilly Circus - there is a very old church called "
St.James Church Piccadilly
" - designed by
Sir Christopher Wren
in 1684. The interesting thing about this Church is the fact that it had a grapevine growing in its garden - which trails over the fence and onto the street-side on Piccadilly. And remarkably - there are big bunches of grapes growing on it! I have to admit I've never seen a grape vine at all in my life - until today.
Bunches of grapes growing at a church on Piccadilly!
Lunch in Chinatown - followed by browsing around curiosity shops. A strange mixture of traditional British, traditional Chinese, hardcore porn and second-hand music.
Chinese lanterns
And a final wander around Leicester Square. Too full to bother with banana-split ice cream at the Swiss Centre - we made our way back down underground.
Leicester Square tube station
The largely empty tube train carriages on the way back home are compelling playgrounds for the younger generation. Especially all that space around those yellow poles ...
Empty train carraige = kids playground
Posted by jag at 05:01 PM | Comments (14)
July 24, 2004
Saturday Morning Thrills
It's been a seriously exciting Saturday so far. I walked down to the High Street to get my haircut. Picked up some fruit and veg on the way. Mowed the lawn when I got back. Luckily, I took my handycam with me down to the High Street - and captured some of the exciting things going on in the negbourhood on this gloriously hot and sunny Saturday morning. I've edited the video down to 1 minute 55 seconds - and kept the file size down to around 4.8 Megabytes by encoding it at 320 x 240 pixels and around 300kbps data rate . It should only take a few mins to download if you are on broadband cable or ADSL. It's a Windows Media Video (WMV) file which should work fine in versions of Windows Media Player greater than version 7.
(The musical dub is opening extract from a catchy dance number called "At Night" by Shakedown.)
Posted by jag at 05:45 PM | Comments (4)
July 22, 2004
Literary London Blogs
An academic conference called "
Literary London - Representations of London in Literature
" hosted by
The Institute of English Studies at the University of London
, took place this weekend just gone. Interestingly - there was a particular speaker (called
Ralph
) who presented a paper titled "
London Blogging: Weblog Culture and Urban Lives
". And guess what peeps? This very here journal was featured as a case study! (As were
Diamond Geezer
,
Urban Badger
and
Random Acts of Reality
)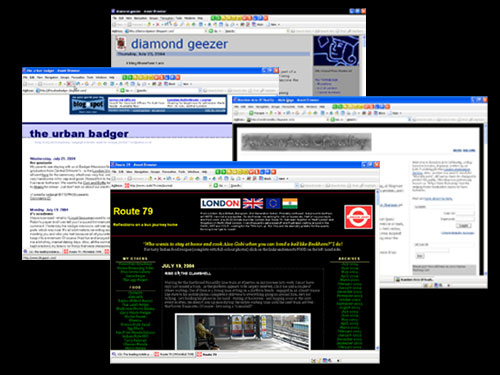 Blogs featured in a London academic conference on literature
Well - it's intriguing that certain aspects of this journal have been used as source material for a most fascinating and insightful study into London "blogging" - especially when it goes under the most auspicious label of "literature". But I do urge you to
read the paper
if you have the time - a lot of very interesting observations, theories and propositions are discussed - and, for me anyway, the paper encourages some lateral thinking on the whole topic of on-line journal-writing. You can also
read Diamond Geezer's commentary on the conference paper
too.
Posted by jag at 09:30 PM | Comments (8)
July 19, 2004
Rise of the Clamshell
Waiting for the Eastbound Piccadilly Line train at Alperton on my journey into work. I must have only just missed a train - as the platform appears to be largely deserted. Only me and a couple of others waiting. One of them is a young man sitting on a platform bench - engaged in an almost trance-like state to his mobile phone. Completely oblivious to everything going on around him. He's not talking - he's holding his phone in his hand - staring at his screen - and tapping away at the keys every so often. He doesn't look up once during the entire waiting time until the next train arrived - that's over 8 minutes. Of course - he's using a "clamshell"
Over 8 minutes without looking up or changing his posture
Over the last few years I've been informally monitoring the behaviour of people and their mobile phones on the public transport systems. One particular dimension I have been particularly interested in of late is the relationship between mobile phone usage behaviour and fundamental phone design. Mobile phones can broadly be classified into two different fundamental design groups: 1) "candy-bar" and 2) "clamshell" The candy-bar design is most prevalent in Europe. It's the unmistakeable small-screen-at-the-top, keypad-below-screen, bar-of-soap shape and size mobile phone. The clamshell design is typically similar in size to candy-bar but - has a hinged-flip-over-panel which revals the screen on the other side of this panel - and the keypad on the other panel. When fully opened - clamshells tend to position the screen relative to the keypad at an angle that is conducive to speaking as well as screen-viewing. Like I said - the candy-bar design is undoubtedly the most common/popular here in Europe. The mobile phone manufacturers have placed a lot of emphasis on compactness and style - and much innovation on these two dimensions have been demonstrated in the candy-bar design. The particular usage behaviour I've been informally studying lately is this. When mobile-phone users are NOT talking on their mobile phones - what are they doing with their phones? And how does this behaviour change (if at all) between candy-bar owners and clamshell owners? Well - and this is entirely, casually-empirical - in the last few months I have noticed an ever-increasing number of people carrying clamshells. And one very striking difference in usage behaviour that I have noticed is that of whereas users of both candy-bars and clamshells will sit on trains or stand at bus-stops staring at their phones whilst manipulating their keypads (usually for reading and writing text messages - or clearing out and organising old text messages - or browsing mobile web sites or playing Java games) - the clamshell owners tend to be performing this act for longer and more sustained periods than the candy-bar owners. My theory is this - the clamshell design (i.e. the angled keypad and screen flip) is much more conducive to non-voice operations than the candy-bar. i.e. it's much more comfortable to be using "data" services like text, web browsing and game-playing on a mobile phone on a clamshell than a candy-bar. This is further reinforced by the fact that with a clamshell there is greater potential for the phone manufacturer to increase the size of the screen display whilst keeping within the sweet-spot of the overall size of the phone's form-factor. I stress the word "potential" there - because there are very few clamshell phones out there which take advantage of the extra available real-estate on the screen-flip. It seems that the current state of the art in clamshell design is *not* about manufacturers/network-operators responding to the increasing propensity to use phones for non-voice stuff - but about doing clamshell just to provide an alternative to candy-bar - i.e. a style thing rather than a function thing. Once again - I believe this to a be temporary situation - as more and more of the ordinary mobile-phone-owning public demands a better non-talking experience on their mobile phones - then the clamshell design will chage from being a novelty alternative - to being a more serious "data" workhorse: i.e. greater screen size, better build quality etc. My prediction is that in less than 3 years time - the clamshell design will be dominant - at least on the public transport systems - and the candy-bar design will become niche.
Posted by jag at 08:38 AM | Comments (15)
July 17, 2004
West Side Story
Prompted by
Stu
- who recently posted a link to an article on artist
Saul Bass
- who was a genius of a graphic artist responsible for movie graphics and title sequences to countless famous films of the twentieth century - just one of which was the movie-musical
West Side Story
. I have to admit it - I am completely obsessed by West Side Story. I have been for years. Every since I first watched the movie musical on a black and white TV when I was aged 7 or 8. In those days - I used to walk to and from school myself - about a mile or so each way - and I had the key to my front door - which I would use to let myself into the house after coming back home from school. Yep - I was a "home alone" kid until my Mum and Dad came back from work. And although I was forbidden to watch TV - I used to sneakily put it on and watch childrens programmes. However - one day I must have had it on
BBC2
or something - and although I didn't know it was West Side Story, I was transfixed - completely immersed into the film. So much so that I didn't realise it when my Dad came home and caught me watching the TV red-handed. He switched it off during a climatic moment towards the end and told me off really bad. Ever since then - this musical has been a lifetime of "unfinished business" for me. That's how I first caught the West Side Story bug I suppose!
West Side Story
All these years later - I have taken every practical opportunity I've ever had to watch stage reproductions - everything from school plays to local amateur dramatic societies to professional drama group tours - all over the world. I have watched the film version hundreds of times - and covet my DVD copy more than any other DVD in my collection. My MP3 player has permanent copy of each of the songs from the famous soundtrack - and all these years later I am still left breathless at the composing genius of
Leonard Bernstein
. So - for the first time here on Route 79 - I offer my tribute to this most magnificent and influential musical by producing a short historical treatment on West Side Story - assembled from various sources credited below. Click on the "more" below to continue ...
---
Click on play in one of the Media players below to listen to a song from the soundtrack. My favourites are "Cool", "Tonight" (which is a romantic number which almost everyone will have heard a version of at some point in their lives!) and my best of all favourite is "The Jet Song". (Turn up the volume - the music should play almost straight away due to low-bitrate encoding.)
The Jet Song
When Broadway legend
Jerome Robbins
conceptualised the idea of musicalising Romeo and Juliet within the context of contemporary New York City gangs, he approached librettist Arthur Laurents with the idea. The two then joined forces with musical genius Leonard Bernstein to create the now-legendary West Side Story. The show had difficult birth pains, losing a producer along the way, but when it opened at New York's Winter Garden Theatre on September 26, 1957, it changed the face of musical theatre forever. It all started in 1949 - when dancer and choreographer Jerome Robbins suggested to composer Leonard Bernstein that they join forces on a modern musical version of
Shakespeare's Romeo and Juliet
. The play had already been adapted for opera and ballet and he thought the love story, set against a background of family feuds, had universal appeal. Robbins proposed that they update the plot using a Jew and a Catholic as the main characters. He named the project East Side Story and called in writer
Arthur Laurents
to work on the libretto. Bernstein, though initially enthusiastic, decided he had too many other commitments and the project was put to one side. Six years later, meeting by accident in Los Angeles, Bernstein and Laurents again discussed the project. On this occasion, Laurents fired Bernstein's imagination by suggesting that they use a black and a Puerto Rican as the hero and heroine caught in the middle of street gang rivalry. Laurents looked out his old libretto and Robbins was contacted.
Stephen Sondheim
was enlisted to write the song lyrics, despite his protestation. "
I've never even known a Puerto Rican
". The creative team was now in place. This was to be a collaboration, not, as Laurents put it, just a "
god-damned Bernstein opera
".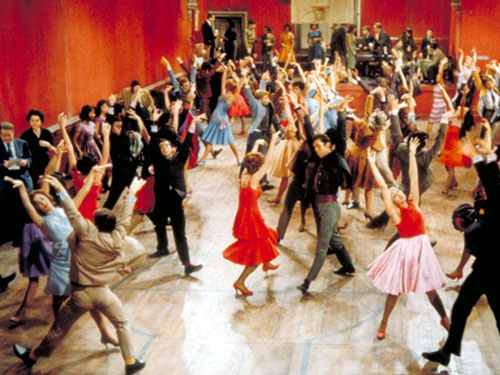 Laurents stuck as closely as he could to Shakespeare's original plot: the star-crossed lovers became native New Yorker Tony and Puerto Rican immigrant Maria; Shakespeare's Montagues and Capulets became rival gangs the Jets and Sharks; and the great love scene was transposed from balcony to fire escape. To make the characters timeless yet realistic, Laurents invented a special street language, as he felt contemporary slang would date the piece. In 1961, producer Robert Wise made West Side Story into a memorable film, which Sondheim credits with transforming the show from a cult to a smash hit. Starring Natalie Wood, Richard Beymer and George Chakiris, it is widely acknowledged as one of the finest movie-musicals of the 1960s. In the famous, dazzling opening sequence, they gradually break into a highly-stylised dance and then burst into a daring, high-stepping sequence - an exhilarating, inventive, visual ballet of pirouettes, vigorous athletic moves, and running jumps that symbolises their dominance and energy - they are readying themselves for a gang brawl. The film was awarded 10 Academy awards (Oscars), including 'Best Picture', and a special award went to Jerome Robbins 'for his brilliant achievements in the art of choreography on film'. The film also made stars of Rita Moreno and George Chakiris, a member of the original London stage cast. Both received 'Best Supporting Actor' Oscars, while Irene Sharaff was honoured for her costumes.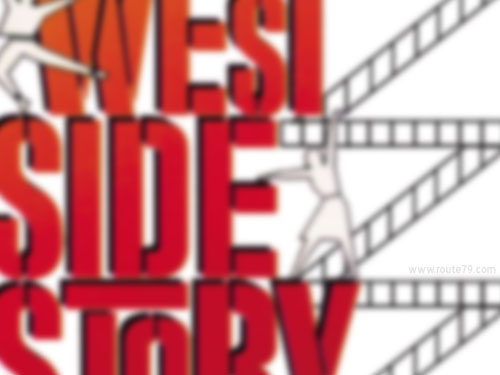 Some "did you knows" and trivia about Westside Story: * In case you skipped reading the above - West Side Story is based on Shakespeare's Romeo and Juliet. * Originally the script was to have dealt with a Christian/Jewish romance (called "East Side Story"), but Bernstein decided to choose a more immediately relevant theme. Ironically, neither Broadway nor Hollywood was able to rise above its own institutionalized racism to cast a Latina actress as Maria! * When West Side Story first launched on Broadway - it launched the era of the modern musical. Yes - It was THE original. prior to WSS - the closest to musicals on the stages of London and New York were operas and operettes. * The musical style is based on hard-hitting big band jazz and Latin-beat music like the mambo. Popular dance music had not settled exclusively on rock and roll yet when West Side Story was being written and composed. * The slang meaning of the word "cool" was invented by Laurents for West Side Story. It wasn't until several years after the launch of the musical that the modern slang form of the word "cool" became widespread. Cool eh? * The film version of the musical won 10 Oscars out of 11 nominations. Only Ben Hur (1959) and Titanic (1997) have surpassed it for the number of Academy Awards. * Some of the film was shot on location in Manhattan (in abandoned West Side tenements around 110th St) - but most of it was actually filmed on sound stages with stylized, artificial studio sets. * The soundtrack album for the film was at the number 1 position in the US Billboard chart for 54 weeks. * The original stage version of Maria's song "I Feel Pretty" included the lyrics "
I feel pretty and witty and bright - And I pity - Any girl who isn't me tonight.
" In the film this night scene was changed to the daytime, and presumably for this reason, the rhyming words "bright" and "tonight" were changed to "gay" and "today." ! * For the movie - the opening dance sequences were shot on the upper west side of Manhattan where Lincoln Center stands today. This area was condemned and the buildings were in the process of being demolished to make way for Lincoln Center. The demolition of these buildings was delayed so that the filming of these sequences could be completed. * Although Robert Wise is credited as the director of the film - it was in actual fact mostly directed by Jerome Robbins - but his propensity for filming and re-filming scenes as he strove for perfection led to the movie going over budget and behind schedule. Robbins was fired by Mirisch Pictures, the production company, when the shooting was about 60 percent finished, and Wise completed the filming alone. (The original arrangement had been for Robbins to direct all of the song and dance sequences, and Wise to direct everything else.) * Robert Wise's original choice to play Tony was Elvis Presley. And Audrey Hepburn was offered the role of Maria, but she turned it down, because she was pregnant at the time.
---
Sources for the article above:
Adrian Tan
,
Filmsite.org
and
MGM
.
Posted by jag at 03:14 PM | Comments (9)
July 16, 2004
Ealing Road
Reflecting on the bus journey home. I must be going through an "Ealing Road" phase at the moment. Not surprising - considering the fact that the most visually intensive portion of the journey home involves sitting on the upper-deck of the 79 bus daydreaming whilst staring out of the window at the world passing by. The first thing I notice is a street seller displaying "rakhi" wrist-bands. "Raksha Bandan" (or "Rakhi") is derived from a Hindu special occasion that occurs on the day of the full moon of the Hindu month of Shravran - and celebrates the bond of love between a brother and a sister. There's nothing strange or sinister about this - as in Indian traditions - this is one of the noblest of human emotions. The celebration is marked by the tying of a holy thread around the wrist - usually applied by the sister to her brother. "Rakhi" means "bond of protection" and the ritual signifies the strong protecting the weak from all that's evil. Yeah - I know that it's not so politically correct these days - but old traditions die hard - and it's all about a good excuse for brothers and sisters (as well as cousins) to remember to be good to one another! :-)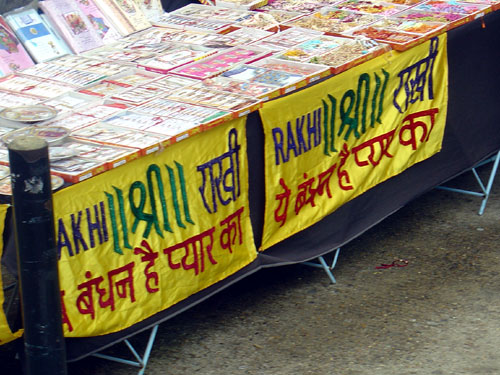 Street seller - selling Rakhis
The rakhi bands are usually made of silk and gold/silver threads - and are usually crafted with beautifully embroidered sequins. In extremely wealthy cases - they are studded with semi precious stones. (Click on the "more" below to continue ...) Before continuing you may want to click the play button in the media player below for a musical accompaniment. From the soundtrack to the recent film
Main Hoon Na
- it's called "
Tumhe Jo Maine Dekha
" - a duet sung by Abhijeet and Shreya Ghoshal - interestingly sung in a latin-esque style. (It's encoded at a very low bit-rate - 40kbps - so should start playing immediately even if you are on dialup.)
Anyway - finishing off the rakhi thing: The "Rakhi" ritual is the ceremonial tying of the rakhi by the sister around the wrist of the brother. It is meant to not only strengthen the bond of love between the brother and sister, but also the entire family. In this sense it serves a purpose of social bonding. For example - when a rakhi is tied on the wrists of close friends and neighbours, it symbolises the need for a harmonious social life, where everybody lives peacefully as brothers and sisters. In this sense it highlights the act of all members of the community committing to protect each other. Don't you think that's sweet? There is a trend In India these days - where it is fashionable to offer a "friendship band"
on certain occasions
- and this is most certainly an extension of the Rakhi custom. For example - when an Indian girl feels that a boy has developed a kind of love too strong for her to reciprocate, she sends the guy a rakhi and turns the relationship into a sisterly one. This is one way of saying, "let's just be friends", without hurting the other person's feelings for her. Cool eh? Further down Ealing Road - as the bus pulls into a stop - I notice a girl all dressed in blue - talking into her mobile phone in a highly animated fashion. I wonder what she is talking about.
Girl shouting into mobile phone
A few metres later - and I spot a childrens coin-operated giraffe ride that appears to be a fairly recent fixture outside of a sari shop. A woman passing by must be thinking the same - and stops to examine it.
New coin-operated giraffe ride outside sari shop
As the bus trundles along a bit further down - the local police appear to be questioning a motorist about something. Sat here on the top deck it's kind of hard to work out what the trouble might be - but I am not the only one on the bus turning my head and squinting in order to figure out what's going on.
Police questioning someone
One thing I've noticed about Ealing Road is that there is only one bank cash machine in the entire vicinity. Needless to say - there are always long queues of people waiting to get some cash dispensed from it.
Queueing for the only cash machine in the area
In a sudden clearing - the construction site of a new Hindu temple (Mandir) comes into view. I have watched this, practically every day for the last few years, grow steadily from dirt and nothing - to something becoming quite magnificent. I have no idea when it will be finished - but I am certain it will be an amazing sight to behold when it's finished. Especially if the nearby
Neasden temple
is anything to go by.
Mandir under construction (Notice the "Bollywood" film posters on the perimeter fence - I'm sure Shah Rukh Khan is on one of them!)
Around here - the shops spill out their wares all over the pavement. Most of the time it's rails of Indian apparel - or trellis tables diaplaying shoes, or CDs, or DVDs - or whatever. But sometimes it's advertising boards inviting you to enter a nearby mini-arcade - for a haircut or perhaps cheap international calling cards.
Advertising
As the bus hits a traffic queue - I notice that there is another Route79 bus in front.
Route 79 bus in front
This is a typical Route79 journey down Ealing Road on a Friday's bus journey home.
Posted by jag at 11:59 PM | Comments (14)
Palm Beach
A restaurant which is a landmark at the North end of Ealing Road near the junction with Wembley High Road. My Route 79 bus stops right opposite it. For as long as I can remember this restaurant was painted yellow. But recently they painted it green.
Painted green.
Posted by jag at 07:26 AM | Comments (6)
July 15, 2004
Ealing Road Couples
Was messing around with my cam whilst sat on the upper deck of the Route 79 bus the other day. Snapped a couple of "couples" walking on the pavement as the bus crawled along in the traffic queue.
Couples walking on Ealing Road Wembley
Posted by jag at 11:14 PM | Comments (4)
July 14, 2004
Rajma!
Rajma is a traditional Indian curry made of red kidney beans. A great source of protein - and a wonderfully tasty vegetarian dish that can be cooked really quickly - and is versatile enough to be served with either rice, roti, naan/pitta-bread - or even toast!
Rajma
To learn how to cook this tasty dish -
click here
.
Posted by jag at 10:45 PM | Comments (10)
July 13, 2004
Wanted for murder
Queuing for train tickets at Ealing Broadway station is an immersion of the senses into a kaleidoscopic barrage of sights and sounds. Although I normally have my MP3 player blasting out most of the ambient aural sensations - the visual haze is often punctuated by selective focus on things that matter the most. Normally these are things like the next available ticket cashier - or the TV screens displaying the imminent train departures. For the last few months however, there is a particular A4-sized poster that catches my attention whilst waiting in the queue for tickets. It's a poster by the local Police - strategically pasted to the side of a ticket machine - advertising a reward for tracking down the suspect in a murder case from January this year. I have gazed at this poster almost every day for the last few months - as I stand there waiting in the queue for the next available cashier.
Murder suspect
For every new day that I see it - I think to myself that the suspect must still be at large. I often stare at the face of the reconstructed image of the suspect - and I wonder if he will ever be caught. The poster has been there for so long now - the inevitable graffiti has now started to deface the image of the suspect. In some strange sort of way - this leads me to resign myself into a belief that the suspect will never be caught.
Posted by jag at 10:26 PM | Comments (7)
July 11, 2004
Formula 1 Crash!
Today I went to see the Formula 1 British Grand Prix at the Silverstone race track.
Formula 1 Grand Prix - Silverstone (The cars in the pic are of Michael Schumacher and Kimi Raikkonen)
Those of you who consider Formula 1 racing to be much more than just cars going round and round a racing circuit making a lot of noise will appreciate the fact that I managed to snap some of the action - and even caught the dramatic crash of Jarno Trulli - the Italian driver of the Renault F1 team - ON MY VIDEO CAMERA. Click on the "more" below to carry on reading ...
What was left of Jarno Trulli's car after the crash and cleanup operation
You can download my two-and-a-half minute video (including the crash and dramatic cleanup operation) complete with original screaming sound of Formula 1 engines by doing a
RIGHT-CLICK-AND-SAVE-TARGET-AS HERE
. It's a Windows Media Video file (WMV) - just save it to a folder of your choice - and when it's downloaded just double-click on it to play. The file is just approximately 6.5 Megabytes in size - so it should only take a few mins if you are on broadband/cable/ADSL. Apologies in advance to dialup users - it will probably take a little longer. Enjoy! The journey back home to London was awfully long and tiring. Left at 4pm - didn't get home until 9pm.
The long journey home after the race
Posted by jag at 11:19 PM | Comments (13)
July 09, 2004
Little Britain
On the way to work this morning in the heart of Central London I stopped to take a good look at a side street that I normally just walk by without looking. It's a strange street - because it's visually a very uninteresting street - but has a very strange name. The name of the street is "Little Britain".
Street with a strange name
What's even more strange is a little sign just under the street-name sign. You might just be able to make it out in the picture above. It says:
CITY OF LONDON POLICE This street is within the SPECIAL LIMITS of the METROPOLITAN STREETS ACT 1867
Strange eh?
Posted by jag at 09:47 AM | Comments (11)
July 07, 2004
Stylus Warrior
Back in action after a few days of being exceptionally busy - so apologies if I haven't been so responsive to comments etc. Commuting into Central London this morning (took the Met Line down to the City) a man got on the train at Baker Street - and immediately started using his PDA. I think it was a Palm Tungsten model. The train on this stretch of line isn't a particularly bumpy ride - but in my own experience of living with a PDA even small slight multiple-plane, variations in the velocity of the train make using a stylus-operated PDA very difficult to use on the move.
Stylus warrior
Throughout the rest of my journey I observed the man using his PDA - and sure enough - only once or twice in a ten-minute period did he tap his stylus on the screen. This is in contrast to people I have observed using Blackberry (which has a a mini-keyboard) - who have a propensity to spend their entire journey vigorously using the keyboard to reply to emails etc. My theory is that the "keyboard warriors" spend a lot of their mobile time "writing" - whereas the stylus warriors spend most of their time "reading".
Posted by jag at 10:35 AM | Comments (7)
July 03, 2004
Sunflowers
Spotted these nice-looking flowers inside a shop - beside the window. I think they are sunflowers. You can see a brochure stand near them - and if you look closely you can see a little red heart printed on the brochure. Isn't that nice?
Sunflowers and red-heart on brochures
Posted by jag at 02:33 PM | Comments (7)