July 26, 2003
Spontaneous nothing
Noisy squawking seagulls that woke up my went-to-bed-at-1:30am-head at around six this morning. As far as I'm aware there isn't any sea for around 91 kilometeres - and yet there's a flock of seagulls that fly round here every day.
Late night conversations with Ms.Route79 about lazy classroom assistants led to some random spying through the spyhole on the front door - which is when I spotted three shadows across the road. Presumed youth. One of them spraying a tag on a wall. And then it occured to me that this is the first time EVER that I've caught someone in the act. Something inside me made me open the door - and the shadows quickly disappeared.
Spontaneous nothing

So what better to do this morning than to try to admire by daylight the spray-painted piece of art that in my own little way I helped influence. But the harder I looked the harder it was for me to see it that way. Unlike Fume. Maybe it was my digital camera that wasn't capturing the art properly? I took a test shot of random things on my surprisingly uncluttered desk. I cleaned the lens and randomly fiddled about with the settings and was about to give up, get up and make myself a cup of tea when I took a closer look at the test picture I just took. I spent the next 10 minutes staring at it. And it oozed an infinity of stories. But I couldn't bring myself to writing any of them down - as this would destroy the enormity of it. Perhaps that is art?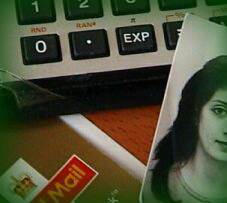 An Infinity of Stories

Stare at the above picture for a few minutes. Absorb yourself completely in it. What do you think about? (Click on "comments" below and share it with me.)
Posted by jag at July 26, 2003 07:11 AM