May 15, 2003
Searching for "FUME"
FUME: He (assuming he is a he) is the King of the Hammersmith & City Line.
FUME rules. He is EVERYWHERE.
I've been meaning to write about FUME for a long time - but really needed some photographic and video evidence to complement the words. Well - finally I got around to researching it. I took advantage of my mid-morning journey in to work today to go a different route. Armed with my Handycam - I took the Metropolitan Line from Wembley Park down to Baker Street - and then jumped onto the Hammersmith & City Line towards Hammersmith.
And I caught it all on camera. I guess I must have looked a bit stupid standing there - pressed up against the window of the sliding doors with my camera trained on the scenery of the railway lines - but that's why I didn't decide to this in the rush hour; I didn't want to embarrass myself to too many people.
When I'm standing there staring out the window at the works of art that make up our urban landscape - I often wonder who in the world I would most like to meet. My list is quite long - but there is one person I really would like to meet - and he appeals to the audacious side of me.
His name is FUME.
FUME is a tagger. He's "bombed" the entire Hammersmith & City line from Paddington westward towards Hammersmith. He is the crown king of the "writers" of West London.
Yes - FUME is a graffiti artist. Well - I'm not sure everyone would call it art - but it fascinates me nevertheless. What drives him to do it? He must spend all night working on some of his artwork - what is his motiviation? Is it respect? Is this his way of literally leaving his mark on society? I wonder what sort of music he likes? Does he work on his own? What do other taggers think of him? Too many questions … and only guesses at the answers.
I bet the British Transport Police would also like to meet him.
FUME's "pieces" (short for masterpiece in the trade - these are large tags which contain more than two colours), although illegal, only seem to grace otherwise boring-looking walls. Hidden from all views except trains - therefore cannot really be called "eyesores". Well - I don't think they are an eyesore anyway. It amazes me sometimes how they manage to do these subversively. In no way do I condone vandalism - but I'm sure the creative energies of these taggers could be used positively to brighten up the dreary suburban railway lines.
I finish here with some imagery of FUME's work: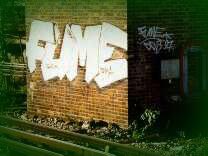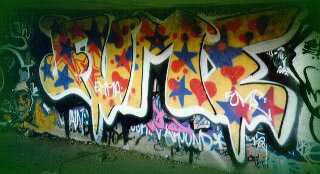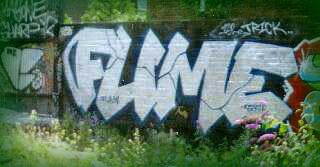 Maybe one day I will get a chance to meet FUME.
And now, if you have the patience - why not download my latest pop-video creation "In search of Fume". Although it's around 15.5 MBytes in size (yes go get yourself a cup of tea whilst in downloads!) - you will be rewarded with CD-quality musical accompaniment to the video. A true multimedia experience! Go to the Audio/Video download page by clicking here. And be sure to look out for my favourite bit -which is where the Ham & City train I'm on is between Paddington & Royal Oak; you can see me zoom on to an overhead iron-bridge which has FUME's tag on it. How did he do that? Too many questions …
"Though I try to find the answer
To all the questions they ask
Though I know it's impossible
To go living through the past
Don't tell no lie
There's a natural mystic
Blowing through the air"
From "Natural Mystic" by Bob Marley
Posted by jag at May 15, 2003 06:11 PM