April 01, 2004
Passing Train
Ealing Broadway station has London Underground trains as well as overground trains passing through it. This station is a regular connection point for me on the way to work and back. Some people find it hard to believe that I get up to ten (yes ten!) different items of public transport every day - 2 buses, 2 tubes and 1 train to get to work - and the same to get back home from work. Ten in total.
At Ealing Broadway - I often find myself waiting for a few minutes on the platform for an overground train for the last leg of my journey to work. As I wait - sometime a high-speed, non-stopping, train passes through the station at what seems like in excess of 100 miles per hour. If you are stood on the platform on the side where the high-speed train passes through - you can often get a feeling of sheer exhileration as the train rushes past not more than one metre away from you. It's a rush that has to be experienced to believe.
Yesterday - I caught this experience on video camera. The high-speed train was the Heathrow Express train - and you can hear the train driver sound the loud horn as he approaches the station. i am convinced that he sounded the horn for me - because he must have seen me standing there with my camera trained on him. What's also perhaps interesting is the fact that you can see the reflection of me in the windows of the train as it rushed past me - less than one metre away!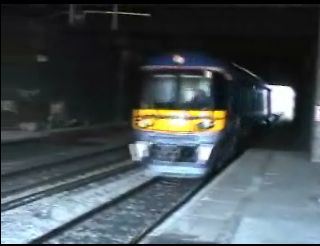 Passing train rush.

Posted by jag at April 01, 2004 09:40 PM