September 08, 2003
Graceland
Final email out the way, thinking about Slough tomorrow - still as desperate a place since I last wrote about it, I walk purposefully to the lift and join Graham for the journey down to reception. He: Fitness First. Me: Marks & Spencer. Something to accompany yesterday's leftover spicy rice beckons - but I know not what. Marks has a habit of tickling the imagination - I put it down to all that fancy packaging - a marketing department's pride and joy. And I fall for it every time - despite the humble scientist in me …
Seconds later at Reception: "Fridge!" declares Steve - the trendy security guard. "Freezer!" says I in return - trying to outcool him. He smiles. I laugh as I spin my way through the revolving door and out onto the Broadway to join the throngs gathering in anticipation of the green man. He appears suddenly - and suddenly we cross - as seemingly a hundred others cross in the opposite direction - in perfect harmony: not a single collision, miraculously demonstrating the gracefulness of human movement; like an order arising from the carbon-monoxide-induced chaos of Hammersmith Broadway.
The automatic door spurts open from a near-fit of closure as I waltz on into Marks. Greeted by a headless mannequin sporting lacy, purple lingerie - I confidently swoop down to retrieve a basket from the pile precariously placed next to said dummy - and without a blemish risking ungrace on the manouvre - I make my way towards the food hall.
"Fish." That's it. Salmon in fact. No skin - no bone - I fumble around the back of the cabinet of row upon row if the stuff - in order to get at the best possible best-before-dated-package - and then toss a couple of packets into the basket. These were "tails" - so they're £2 cheaper than the regular fillets - but what do I care? They'll cook just the same I'm sure. The scientist in me prevails.
I spy on the shopping of the guy in front of me at the checkout: "so that's what he's having tonight" me thinks: A packet of baby spinach leaves and a couple of crusty bread rolls. Images of a delicious plate of saag and fresh roti - hot off the thawa - flashes in my mind - and then I smile as remember the "let's go for an English" sketch from Goodness Gracious Me a few years back.
I am on the tube. Hammersmith, Acton Town, Ealing Common, North Ealing, Park Royal, Alperton. And then …
Route 79: Didn't have to wait very long. Lower-deck tonight - as the bus is half empty. Nothing out of the ordinary catches my attention as it wends its way daringly through the density of man, machine and fruit-and-veg-shop on Ealing Road - and then onto Wembley High Road. Nothing extraordinary that is - until I catch sight of this: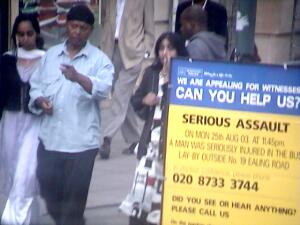 Last week it was "Murder" - and this week it's "Serious Assault". So something had changed. I remind myself that change is the only constant - hoping somewhat vaguely that it was someone as wise as Confucious who said that.
One doesn't notice the lonely discarded shoe atop the bus shelter at Preston Road bus stop when you're sat on the bottom deck. It's almost as if it isn't there - but in my mind I hope that it is when I come by here in the opposite direction tomorrow morning. For me: the morning has to be the top-deck. The evening is the bottom. I then wonder if there is some subliminal meaning in that?
Kingsbury approaches - as the bus approaches it. Paul Simon declares to my ears that the Mississippi Delta is shining like a "national guitar" - and once again I wonder what he means by this. But I soon forget the philosophy of it all by reminding myself that MP3 is liberating - and that I believe that I am about to be received at my home. My very own Graceland.
The daily pilgrimage endeth here - where it started 10 hours earlier.
Posted by jag at September 08, 2003 10:11 PM