August 09, 2003
Just like Cloudy Bay
Someone in the office sent round an email yesterday - containing reports of Cloudy Bay (cult wine) on sale for bargain price at the Tesco Metro in Hammersmith: (Names scrubbed to protect the innocent from the evils of the Internet)
"fyi, xxx called me today to let me know he found it at tesco.
cheers, xxx
ps - price is around 1/3 of the belvedere, holland park price. better
than at the wine merchant, too.
This elegant Sauvignon Blanc from New Zealand has achieved cult status.
Best Served Chilled
Per case: £136.69 (equivalent to £11.39 per bottle)
This case contains: 12 x 75cl bottles"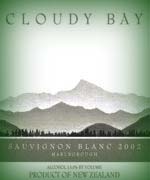 I have to say that the person who sent the email above is a highly cultured New Zealander - getting quite excited about an admittedly good wine which normally sells for in between £20 and £30 per bottle. BUT - you see the point is - being neither highly cultured nor a New Zealander I felt that I could trump the above report with my Ace card - and I did. It was my report of a wine JUST LIKE Cloudy Bay Sauvignon Blanc (and in fact in my opinion just as great tasting) - but far cheaper than even the above bargain price. OK - so it's not the real McCoy - but it's made by a better wine-maker - made with the same grapes - and is made right next door to Cloudy Bay. It's called Belmonte Marlborough Sauvignon Blanc - and it's available for £6.99 exclusively from Virgin Wines (which I have to say provide the best Internet shopping experience that I have ever - well - experienced).
Posted by jag at August 09, 2003 09:43 AM