June 06, 2003
Train day
Too busy to write everything up. Today I am going to a place in the countryside called Woking - which means no bus. Which means no note-taking. I cannot take notes on trains. Walkman instead. Which is just as well - because there are backlog of notes in my phone. A few of the more recent ones:
Whispering girl behind me
Ealing Plaza
Piles of Mangoes
Now That's What I Call Music 54
plus loads more for a later day.
Anyway - last time I went to Woking, I remember I got there about an hour early and so I explored the town centre - I wonder if the alien spaceships in the pedestrianised streets are still there? And then I stumbled upon a second-hand book stall in the market square. I ended up filling two carrier bags full of books. I just couldn't cope with all that knowledge laid bare and unwanted on the tables in front of me. Two bags full cost me no more than £2. That was over a year ago - and to this day that are still sitting in the same bags I brought them home in. At least I found them a good home.
I cleared out my camera of it's junky snaps. Here are a few that I found that I don't know which folder to put it - but they seem appropriate for a train day.
Jubilee Line

Wembley Park Platform

Trackside electrics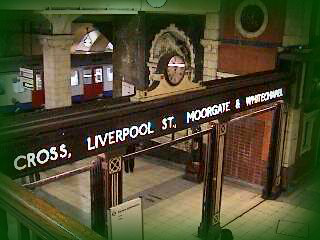 Baker Street - way to City

Posted by jag at June 06, 2003 07:11 AM