October 11 2007
Route 79 Singapore Fried Noodles
I love Singapore fried noodles! And whilst I usually get this from local Chinese takeaway, I decided to try to make it myself. And why not? Here is my attempt, and I must say it turned out rather OK. In the Route 79 tradition, we try to keep to a "one pot" method, which indeed is the case with this dish, but you will need a large temporary plate to set out the ingredients when they are cooked before throwing it all into the same pot again to finish off.
Here are my ingedients ready to go on my kitchen worktop: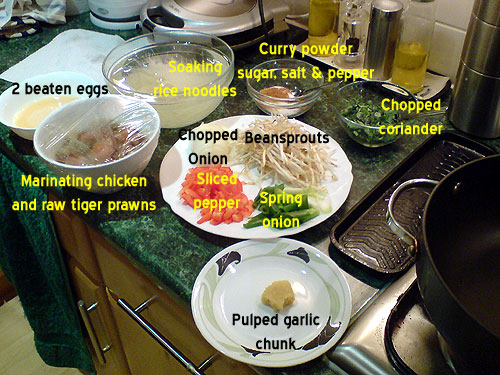 The noodle bit:
Get hold of some rice noodle sticks from your local supermarket. These might be labelled as "vermicelli" or "Thai rice noodles" - it has to be the really thin dried noodles. What you do is take enough for two (say) and put them into a bowl and cover with freshly boiled water for about 5 minutes. After that they will be cooked and you shoudl drain them until they are "dry", i.e. the noodles have soaked up the water and they are ready to be stir-fried.
The meat and fish ingredients:
You could use any meat or fish here, but I think that chopped-up chicken and raw tiger prawns work the best. Use about 125 grams of each. What you need to do is marinate it all in a bowl with about a tabelspoon of fish sauc ("nam pla") and a tablespoon of soya sauce and a tabelspoon of white wine or sherry - I used white wine. Also stir in a teaspoon and a half od cornflour to add a thickening agent to the marinade. Let this sit in the fridge all properly mixed up for about 15 mins to half an hour.
For the vegetable stir-fry bit:
Half a coarsley chopped onion.
Half a sliced red pepper.
A handful of fresh beansprouts.
And a couple of spring onion stems coarsely chopped.
And a couple of cloves of garlic, pulped up.
For the eggy bit:
Just a couple of medium sized eggs, beaten up until frothy, ready to add to the stir-fry pot.

For the spices:

What you need here to give the classic Singapore noodle taste is about a tabelspoon of mild curry powder (I used a Tesco version) with a teaspoon of sugar and some sprinkle of salt and pepper to add some seasoning taste. Mix it all up and have it ready to chuck into the stir-fry at the right point. Also prepare a handful of freshly-chopped coriander leaf.

So here goes:

Use a large wok or "karahi" (which is what I used) as the main stir-frying utensil. Put a couple of tablespoons of vegetable oil into the pot and heat up until very hot. Throw in the marinated chicken and prawn and stir-fry on hot flame until it is cooked.

When the meat and shellfish has cooked (should only take a few mins) turn it out onto your temporary plate.
Then throw in the onions and peppers into the wok/karahi and stir-fry until they are softened after a few minutes. Add the pulped garlic and keep stirring. You will have a heavenly aroma in your kitchen at this point!
Then chuck in the chopped spring-onion, give it a flash-fry and then follow with the beanspouts.

When everything is well-fried, turn out the veg onto the same plate that you have saved the chicken and prawn mix. Then use the same wok/karahi to scramble the beaten eggs.
You don't want to scramble the eggs like you do in a traditional English breakfast - you want this cooked through really well until the pieces are small and "rubbery". After that you toss in the soaked vermicelli noodles and stir-fry on high flame.
At this point you should immediately add the spice mixture and keep stir-frying until the noodles have taken the colour of the curry powder. Add the reserved meat, fish and veg and keep stir-frying until everything is properly mixed up.
When "the force" inside you says that it's done, add the chopped coriander leaves and stir it all in until it's all done.
Then serve into a couple of large bowls and take it to the table immediately for eating!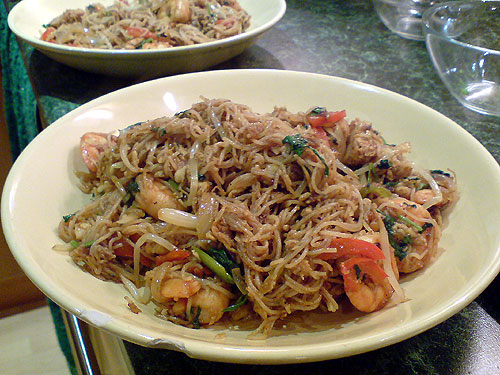 Singapore Fried Noodles. Bon Appetit!
Have you tried this? Even if you haven't - let me know what you think!
You can leave a comment on this recipe by clicking here.