March 16 2008
Route 79 Pad Thai Noodles
We love noodles in the Route 79 darbar! And especially Thai-style ones too. Everybody's heard of a dish called Pad Thai, and just about everybody I know has ordered it at a Thai restaurant at some point in their Thai-food-eating lives. But have you ever thought of giving it a go at home? After trying this a few times over the years having looked at many different methods and recipes on the Internet it dawned upon me that if it's hard and complicated then it's probably not Pad Thai! Simplicity in the cooking is the key, but complexity in the flavours is what makes Pad Thai so tasty. What that means is that most of the work goes into the preparation and assembly of the ingredients, and NOT the actual cooking itself. And in this recipe method I'm going to try to convince you, so as to hope that you might give this a go yourself sometime.
Noodles first:
You start with the noodles themselves. The ones you want are the ones called "rice noodles", or "rice sticks". And quite often they are labelled "Thai" style noodles. Just make sure they are made of rice, water and salt, and not wheat-flour and/or egg etc. You should be able to find these in most supermarkets these days, but the most variety will probably be found at your local oriental/Asian store. Most Pad Thai that I have experienced in restaurants use the wider noodles, not the super-thin vermicelli noodles, but any rice sticks will do.
Then the sauce:
The next thing to get organised is the sauce. If you are feeling adventerous and have all the time in the world then you would build up your own Pad Thai sauce using the base ingredients, which are Fish Sauce (Nam Pla), Tamarind Pulp, and Palm Sugar, and then mic these in such a way that you get the taste to your liking. This will take a while and I don't know about you but it's not easy getting hold of these ingredients all the time for everybody (although I'm lucky myself) but to be honest if you make a trip to an oriental store you should be able to pick up a small bottle of ready-blended Pad Thai sauce for far less bother. If you are starting out with cooking Pad Thai or noodles at home then it makes sense to do this. If you are worried about the "authenticity" of the dish, then just make sure that the ready-blend you get is imported from Thailand! :-)
Important note:
Another thing to mention up-front is that this dish (like most stir-fry noodles dishes) is not suitable for making an entire batch for four people or more, you should plan on making for two people only. Of course, this can serve 4 people as a kind of starter portion, but if you are doing main meal for more than two people then you should get everybody in the kitchen to sit down and enjoy a drink and gissip whilst you cook it all up in batches and serve people as it comes out of the wok. If you try to have too much in the wok at one time then the noodles will turn out siggy and "mushy", and you just don't want that OK? And besides it's much more fun and fulfilling to bring straight from cooker-top to plate and get people to dive in as it comes.
OK - so let's get going. As I mentioned above, the work that goes into this isn't a lot, but where it's at is in the preparation, not the cooking. Start by pre-soaking your noodles. For two people you should probably get just under between 150 and 200 grams of the dried noodle out of the packet and into a bowl which you pour over just-boiled water. The idea is to soak the noodles in the hot water so that they are ready to stir-fry later. Let them stand for under 10 minutes, breaking apart any that have stuck together whilst soaking. Then drain in a large sieve and drizzle some oil over them and toss them about a bit so that they do not stick and clump together whilst waiting to be used. You know - you could do this step a couple of days before, and keep the dressed noodles in the fridge etc.
| | |
| --- | --- |
| | |
Whilst the noodles are soaking or else sometime ahead of the cooking time you must prepare your "ingredients station". Clear aside a portion of your kitchen worktop near your stove for this purpose and have lots of little bowls ready. here is my station all lined up and ready to go. (By the way, I prepared this about an hour so so before I actually did the cooking.)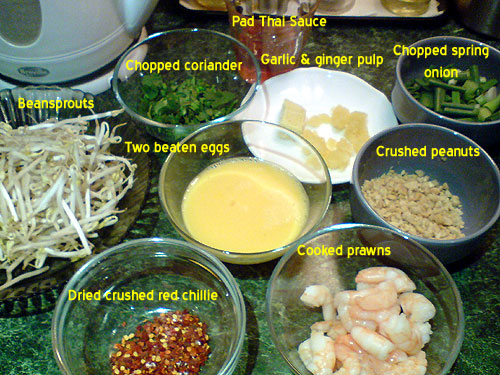 You can see that this Pad Thai is going to be the traditional prawn one (or shrimp if you call it that), and at the very least all you need is:
Some chopped spring onion (I used three stems). Chop the green bits coarsely, but the white bits slice finely.
A couple of handfuls of beansprouts.
Some chopped coriander, use the stems and leaves for cooking, but retain some unchopped leaves for garnishing.
A couple of chunks of garlic and ginger pulp from your freezer, thawed.
One third small glass of the blended Pad Thai sauce
Two eggs beaten up as you would be scrambling them
A palmful of peanuts which you can crush in-situ using the back of a spoon or bottom of a small glass tumbler.
A few pinhces of dried, crishes red chillie or chillir flakes, some to use in the cooking and some to garnish in the end.
And finally, a small packet of cooked king prawns. You can put in as much as you like, but I find that it is better to err on the side of less than more. If your prawns are big, then shop them in half to provide a more even spread in the end-servings.
Start by getting some oil in the wok or karahi heated up until hot. Then turn the flame down a bit as the first thing you are going to throw in there is the garlic and ginger pulp. If you have too high a flame at this point the garlic and ginger will just burn instead of sizzle.
After the wonderful aroma of garlic and ginger starts to fill up your kitchen then you know it's time to get your eggs scrambling. Pour it in and agitate the egg as it sets, so that you get left with shredded egg pieces in the pot. Throw in a pinch of the crushed red chillie at this point so that they embed themselves in the egg bits.
Then throw in the green veggies and herbs, i.e. the spring onions and the coriander. Get it all stirred about so that the flavours mix up. By this time your wok has been going for only a few minutes! Told you this was going to be quick!
Then add the cooked prawns and stir them about for a few seconds. Remember because these prawns are already cooked all you want to do is to warm them through and disperse them throughout the dish. So quickly afterwards chuck in the beansprouts. Now you can turn up the flame a bit because you really got to get some stir-fry action going here.
Pour in the blended Pad Thai sauce and then throw in the noodles just before you start to really work that pot!
Stir-fry on high heat until everything is warmed through and the noodles appear to be lively. You might want to add some dark soy sauce whilst stir-frying to give it a "fizz" and make some noise and also to colour to the dish a bit more.
After about 2 to 3 mins it whould be done. Just get some bowl on your worktop and pour directly from pot into the bowls and these are ready to eat! Garnish with the cruched peanuts and the coriander leaves. Also i forgot to say earlier, serve at table with lime wedges for your guests to squeeze over the noodles. Also have some crushed chillie and soy sauce there in case people want to add some more.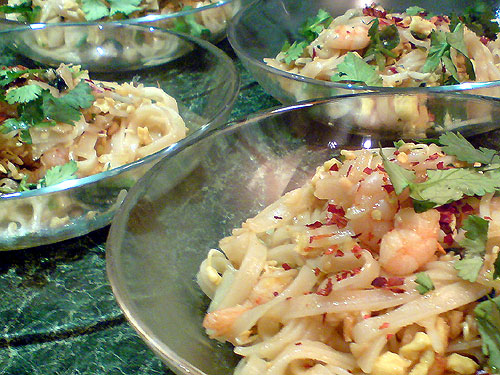 Pad Thai Noodles! Bon Appetit!
Have you tried this? Even if you haven't - let me know what you think!
You can leave a comment on this recipe by clicking here.