August 17 2008
Route 79 Moroccan Style Chicken Bake
We wanted to cook chicken slightly differently this time. This is not Indian style per se, but can be put together in any kitchen equipped and stocked for Indian cooking. It makes a great change and focusses on the wonderful combination of chickpeas and chicken. This combo is popular in the Mediterranean regions of Europe and North Africa, where chickpeas are used liberally in meaty stews as well as salads. Contrast this with the use of chickpeas in South Asian and Indian cuisines, where chickpeas are used as a "centrepice" rather than an ingredient - e.g. in chole bhatura or channa masala etc. Anyway, this recipe is a Moroccan style one, so plenty of use of chillie, turmeric, cumin and coriander, but with a really fresh Mediterranean edge through the use of olives, lemon, parsley and chickpeas.
Here's what you need to get together before starting the cooking: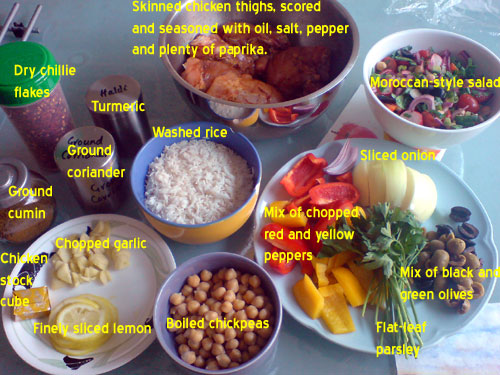 First we get the salad out of the way:
I made the salad first as I do not like to prepare salad after handling raw chicken, so I always leave the chicken preparation unti last. This salad is absolutely divine. Get a 400g can of good quality boiled chickpeas and wash and drain them until they are mostly dry. Use half the tin for the salad. The other half will be used in the rice/chicken. Finely slice (I mean *really* finely slice) a few small round red radish and throw that in. Add some finely sliced red onion (I used half) and chuck in some halved pitted black and green olives (good quality fresh ones, not the ones from a tin). Prepare 100% more olives than you need for the salad as, once again, some will be used in the cooking as well. Then add handful of halved cherry or baby-plum tomatoes, again good quality ones as these make all the difference. I also had some spring onion stems in the fridge so I chopped those finely and threw those in. Then finish off with the dressing: finely chop some of the flat-leaf parsely and squeeze in the juice of half a lemon (save the other half or the cooking). Then pour in some extra virgin olive oil and season with black pepper and a little salt. Stir it all up thoroughly and place into serving bowl and put clingfilm on and place in fridge to cool down. You won't believe how great that salad tastes! This is what it should look like:
Prepare the chicken:
Prepare the chicken firstI got a packet of chicken thighs from supermarket, there were 7 large pieces for £2 - one kilo. That's a good price. Reason why is that they have skin on. So you have to spend 15 mins skinning them and trimming any excess fat from them. If you go to Asian butcher on High Street they will do that for you at no extra cost. Once skinned, score them with sharp knife and then place in bowl and season with a little oil, salt, pepper and paprika. Be generous with the paprika as it will provide nice colour, but not too much powerful flavor. Really give the chicken a good even coating of the seasonings, making sure some runs into the grooves caused by the scoring. The cover with clingfilm and put back in fridge if you are not cooking straight away.
And now for the cooking:
Get a large casserole dish out your cupboard and put in oven. Put oven on 160 fan (or 180 no fan) for 15 minutes to preheat. Whilst that's preheating prepare the chicken stock: You need exactly 1.5 times the amount of stock as the basmati rice. So for example, I used 1.25 glasses of rice, so I just measured that amount of water out into a graduated jug and then poured in about 1.5 times times more and it came to 450 ml on the jug - so I poured away the water into a kettle and simply remembered that I needed to make 450ml of stock. Crude, but effective. I looked at the instruction on my bouillon cube and it said that one cube makes 500 ml so a whole cube is fine. Now, boil the water in the kettle and when it's boiled pour it into your graduated jug exactly half way to your "450ml", and dissolve the cube whilst the water is hot. Then make up the rest of the "450ml" with dry white wine (I forgot to show this in the ingredients pic) or water if you wish. Splash in a good bit of concentrated lemon juice as well if you wish (I always have a bottle of this in my fridge for using lemon juice in cooking)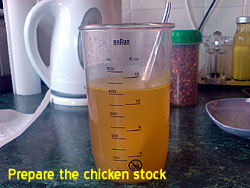 Now brown the chicken: get a wok opr frying pan hot and fry in two batches. Leave each piece to get a good colour on both sides. It took me 5 mins per batch. Put them on plate and then use the same oil in the pan to really give your peppers and onions a good roasting. It took me another 5 mins to do that - blackening the edges of the peppers and onions a little.
When done, throw in the coarsely chopped garlic glove and then add the spices: 1 tsp haldi, 2 tsp ground cumin and 2 tsp ground coriander and a pinch of dried red chillie flakes. Also add some freshly chopped coriander at this stage if you have some. Stiry-fry the wok until the spices have coated the veg thoroughly and then throw in the rice AND the rest of the tin of chickpeas. Make sure everything gets good coating. Turn off the heat.
Now get the casserole dish out of the oven - be careful hot. Pour in the veg/rice mixture and evenly spread it out in the dish. Then throw in the green and black olives - evenly spreading. Then pour in the stock.
Then lay out the thinly sliced lemons on top, and finally place the browned chicken pieces so that they completely cover the rice. Put lid of dish on and stick it back in the oven and set timer for 1 hour.
When the 1 hour is up, take it out of oven and verify that the chicken is cooked and the rice is fluffy and golden-yellow. At this point you will notice that a layer of rice has burned into the casserole dish at the bottom and sides - so I did not use this to serve the dish. I took all the chicken pieces off carefully and then transferred the rice/veg to a wider serving dish, leaving the crusty bits of rice in the casserole dish to soak in fairy-liquid water overnight. Then arrange the chicken pieces on top of the lovely rice and put back in oven (uncovered) to finish off for a further 5 mins on 200 C. This will dry off the tops of the chicken so that they look slightly roasted.
Then serve to the table, squeeze some more lemon juice over the chicken and garnish with chopped parsley (or coriander).
When serving this; it is just great using a large serving spoon to scoop out deep underneath the chicken pieces so that you get a really steamy mound of rice which the chicken is sitting on top of! It looks great! And the salad as an accompaniment is perfect!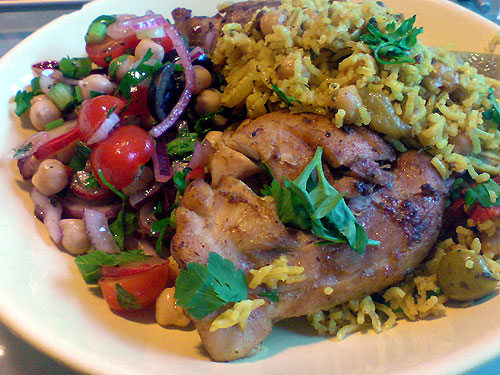 Moroccan-style chicken bake. Bon Appetit!
Have you tried this? Even if you haven't - let me know what you think!
You can leave a comment on this recipe by clicking here.