April 28, 2003
Wine Tomatoes
Ever heard of "Wine Tomatoes"?
Well now you have. "Tomatoes on the Vine": popularised by the the mainstream supermarkets like Marks & Spencer, Tesco, Sainsbury and Safeway etc. - they are coming soon to an Asian grocer near you. Only - they can't seem to spell it correctly! (Or more likely - they cannot pronounce it correctly.)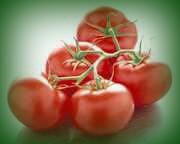 Wine Tomatoes
Yes - like "corn-fed" chicken before it - "Wine Tomatoes" are twice as expensive as the bog standard tomatoes - only you now have the inconvenience of having the stalk still attached to them. Logic gone wrong somewhere - especially for what you might call "savvy" Asian shoppers. But no - visit the main fruit and veg stalls of Ealing Road in Wembley and you will find that "Wine Tomatoes" are all the rage - and the bad spelling appears to be contagious - all the traders seem to be spelling it that way!
The really savvy amongst us know better:
Asian people cannot distinguish between the letter "V" and the letter "W" !! :-)
"Wine Tomatoes" are no different to "regular" tomatoes. They just cost twice as much.
The stalk connecting up all the "wine" tomatoes usually gets thrown in the bin.
Nuff for now.
"You like tomato and I like tomahto
Potato, potahto, Tomato, tomahto …"
From the 1937 RKO Picture "Shall We Dance"
Music by George Gershwin; Lyrics by Ira Gershwin
Performed by Fred Astaire and Ginger Rogers
Posted by jag at April 28, 2003 02:18 PM